Eine Bitte an Alle: Hinweise beachten (Link oben), Änderungen an eigenen Einträgen verfolgen (zwecks Fehlervermeidung) und die Offenen Fragen bearbeiten!
Puzzle pieces
Classification of puzzle pieces
The most common form of puzzle pieces are interlocking pieces made of cardboard. Other shapes or materials have been added in many variations in recent years.
Pieces of cardboard
The quality of the parts depends very much on the manufacturer. The thickness of the parts should be approx. 2 mm so that they do not buckle too quickly and interlock better. The different Puzzle piece shapes in a puzzle also show the quality: many different shapes show a better quality as the effort is greater than for unit forms.
The production of the cardboard pieces usually are done by punching: sharp blades are placed in the form of the pieces on the punching tool and thus the cardboard with the motif is punched. For puzzles with about 3.000 pieces and upwards, a punching tool is usually used several times per puzzle (usually approx. 1.000 pieces) so that many pieces are completely identical in shape (refer to punch repeat).
The unprinted rear side of the puzzle pieces can consist of differently colored cardboard. This can differ from manufacturer to manufacturer and also in the year of manufacture and has no influence on the quality of the puzzle pieces.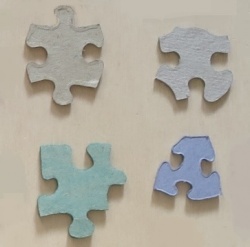 Parts of plastic
Many 3D-Puzzle are made of 3-4 mm thick foam with the attached motif. Puzzle balls consist of slightly curved plastic pieces. Crystal puzzles are usually transparent plastic pieces, which must be superimposed in layers on each other. There are also normal puzzles, where plastic is used.
Pieces of wood
The first puzzles were sawn from thin plywood with a hand saw (therefore Jigsaw). Nowadays, puzzles for adults with many pieces (> 1.000) are less common, since the production is usually done manually and thus the price compared to normal puzzles is also much higher. Unlike normal cardboard puzzles, Wooden puzzles are usually single pieces or small series. The pieces are cut into their shape by means of an electric saw or a laser. This allows individual pieces and the so-called Whimsies.
Pieces of metal
Some 3D-puzzles are assembled with cut-out light alloy pieces by interlocking. A tool kit is not necessary for this.
Size comparison
Thickness of puzzle pieces
Comparison manufacturer